Complete Story

09/24/2021
New York City Field Hospital Highlights Skills of Special Operations Forces Medics
COL (ret) Melissa Givens, MD
The New York-Presbyterian (NYP) Ryan F. Larkin Field Hospital is a 200+ bed field hospital adjacent to NYP Allen Hospital and located inside the "Bubble" within Columbia University's Baker Athletic Complex. The NYP Ryan Larkin Field Hospital (NYP-RLFH) began providing critical surge capacity for inpatient medical care of COVID positive adults beginning in mid-April.
After driving to NYC on April 2nd to see how I could help in the pandemic, I realized there were desperate medical staffing needs across NYC. I was connected by Dr. Steven Rush, a NY native physician who works with the Air Force pararescue community, to Dr. Laureen Hill, COO of NYP/Columbia University Irving Medical Center. Dr. Hill was leading an effort to construct overflow patient care spaces but did not yet have a means to staff the facility. After hearing my idea to staff the field hospital with veteran volunteers, we agreed to proceed with additional assistance from Dr. Kate Kemplin, a former EM nurse colleague. My intent to utilize Special Operations medics was built on a backbone of experience providing medical support for the Special Operations Community and Dr. Kemplin's published expertise in defining Special Operations Medics' competencies.
After talking to Dr. Hill on the evening of April 4th, I tapped into my veteran network by posting a Google form on social media. In a few hours, around 50 people responded. The following day, the request for help was shared with several veterans groups and Special Operations Forces groups. Naming the hospital after Ryan Larkin, a Navy SEAL sniper and medic whose suicide represents the need to raise awareness for military traumatic brain injury, served as a rallying cry.
While NYP was transforming a soccer field into a hospital, my team and I were forming teams of medical professionals ready to travel to NYC with only a few days notice. Hundreds of phone calls and emails were exchanged, and ultimately over 150 people agreed to travel to NYC, including many former Special Operations Forces medics. They knew little more than that they would be caring for COVID positive patients and NYP would provide lodging, food, and a fair wage. The underlying spirit amidst those who responded was one of servitude and a desire to help American citizens suffering during a pandemic.
The advance team converged on NYC on April 8th and met with the NYP team already heavily involved in hospital construction. When the team took their first tour of the "Bubble," the flooring was just being installed. The NYP team and the Ryan Larkin team quickly began to collaborate and merge into one cohesive team to facilitate the reception and on boarding of 150 clinical staff. Just one week and a day from the time the idea was exchanged between Dr Hill and I, the NYP-RLFH opened and received its first patients.
At the writing of this article the field hospital continues to see patients and provide critical offloading to the taxed NYP hospital system. The field hospital has operated without a single employee falling ill to COVID despite caring only for COVID positive patients. The field hospital has also successfully employed Special Operations Forces medics practicing at an RN equivalent after a brief bridging period. Over 900 people have since volunteered using that original Google form, and with the help of Dr Steve Rush, many of these volunteers have been employed in hospitals across NYC. I feel so fortunate to be working with such motivated, skilled and caring individuals. The work they are doing is second to none and I will be forever grateful for their willingness to answer the call.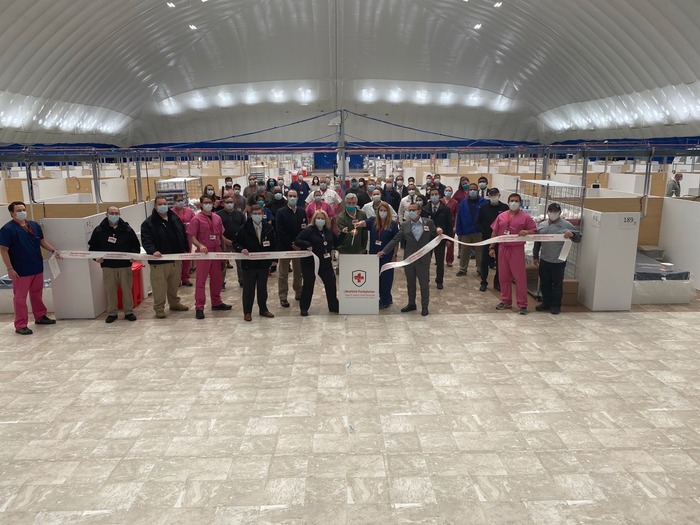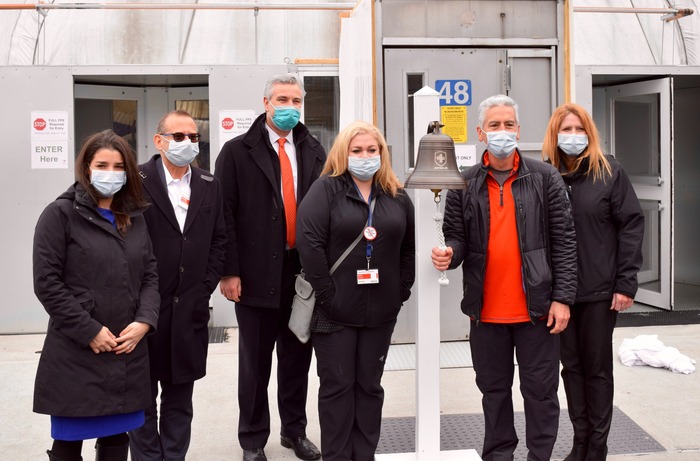 ---