Complete Story

09/24/2021
COVID-19: Perspectives from ED Leadership
Jonie Hsiao, MD
March 5th was the day I realized that our Emergency Department's current leadership structure would not be able sustain us in the upcoming COVID-19 pandemic. The Chief and I (the Associate Chief) had already recruited one highly motivated faculty member to be a COVID co-champion. Although we were three highly functional and capable leaders, like everything COVID-19 has thrown at us, it was no longer business as usual. This was a novel disease that would require the creation and implementation of multiple new processes that would not only, continually change as we learned more about the disease, but required training on how to protect ourselves and those around us. The stakes were never higher. We needed a structure that was not dependent on a few to lead, but would utilize the fullest extent of all our faculty's creativity, energy and resourcefulness.
Ironically, that day was the same day my friend lectured about his work in the 2014-16 Ebola outbreak. It was the day National sent us a memo, asking all VA Emergency Departments to set-up telehealth. It was the day they delivered our PAPR units, and the following day would be the first of our weekly meetings with Infectious Disease.
Stress might have gotten the better of me, and for a brief moment it did. I panicked about the possibility of passing on COVID to my septuagenarian parents. But my emergency training kickstarted, like it does when the nurse calls you to the bedside stat, and panic turned into resolve. The only way to get a handle of the situation was through early and meticulous planning and preparation.
Our first priority was recruiting and assigning every member of our faculty to specific roles and workgroups. We established groups focused on PPE, airway protocols, code drills, creation of a URI tent, telehealth, and education. This turned out to be instrumental because a major challenge was the overwhelming amount of new information that needed to be reviewed, adapted, and disseminated. Assigning faculty members as subject-matter experts and dividing them into self-sufficient work groups ensured high-quality review of the latest information, ongoing collaboration in creative processes, and inherently designated multiple members as reliable sources of specific information for other staff.
Next, we selected another faculty member as a second COVID champion for oversight and to be another primary line of communication. This was necessary to keep up to date with daily incident command meetings and draft daily messages with ever-changing guidelines. We also relied on staff huddles while on shift because information changed by the hour.
We presented a COVID response organizational chart at our monthly faculty meeting on March 18th and folks jumped right in and started planning. All hands were now on deck. (See chart at the end of this document).
Our PPE champions and Airway team re-wrote the PAPR protocol for intubation and coordinated SIM training sessions for 30 physicians on staff. They also recorded videos of donning and doffing sessions and intubation procedures. The Airway team created a COVID specific intubation protocol and organized two new COVID Airway carts. In collaboration with nursing, our Drill champions organized regular Code practice drills and developed a Code protocol, limiting exposure by minimizing the number of providers needed in the room.
The creation of a screening tent was a massive endeavor set out by one of the co-champions, and its existence today is completely due to his leadership. It continues to serve a critical function where patients can be swabbed by the best trained staff, and it shields the rest of the hospital from the disease.
On top of immediate patient care, we also had to prepare for the possibility that staff would become ill or need to quarantine after an exposure. Telehealth would allow some providers to help support our anticipated increased work volume. Our champions learned about this new process and were ready to teach it to others.
With such laser focus on practical matters, like which type of mask was currently available to use, it would have been quite easy to neglect keeping up to date with the latest clinical information and research. Our educational champions' primary purpose was to review and digest the overwhelming barrage of new information and present it in an easy to read format for the rest of us.
Throughout the COVID crisis, the level of engagement and collaboration from our faculty has been the brightest silver lining. We have survived and thrived because we came together as a team. I am extremely proud of what we were able to accomplish in a short period of time. And I cannot think of a better place to work or a better group of colleagues and friends.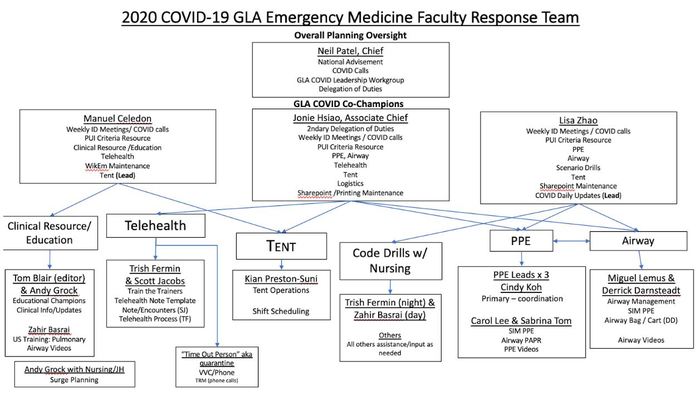 ---
---