Complete Story

09/24/2021
COVID-19 Experience in New York City
LTC T.G. Nessler, MD
Good afternoon! I write this article from the perspective of an O-5 Emergency Medicine physician assigned to Carl R Darnall Army Medical Center (CRDAMC) and MAP'ed to the 9th Hospital Center at Fort Hood, TX. We heard rumblings of an upcoming, short-notice deployment on a Friday, and received an official BPD order approximately 72 hours later. My colleagues and I left our home station on 26 March and traveled to Fort Dix, NJ for inprocessing. After a single overnight at Fort Dix, the unit moved via buses to the Javits New York Medical Station (JNYMS) and received a series of seven in-briefs to understand the larger concept behind our individual roles. After those briefs, I achieved SME status and gave those same briefs the following day due to conflicting schedules with the presenters. Notably, we were in NYC for several days before we received orders to deploy (DD Form 1610 in DTS), creating some strain for our families. It also prevented us from knowing how much we would receive for per diem, although rumors circulated that it averaged $76 per day. Interestingly, operations orders proved hard to come by, due to the speed with which events were changing.
We checked into various hotels within walking distance of JNYMS. Leadership gave geographical boundaries and we were required to travel in buddy teams at night. This seemed quite appropriate given the relatively empty streets due to New York's stay-at-home order. While most restaurants and stores closed due to the pandemic, a sufficient amount operated on a take-out or delivery basis including a Target and some corner stores that were operating 24 hours per day. We did not want for anything and several veteran/military organizations came by to make sure we had everything we needed (VFW rocks!!!). The government contracted for laundry, haircuts, and other services.
As expected, the unprecedented mission started fast and furious. Without exaggeration, I must have filled four jobs in the first five days, including assistance with development of inclusion criteria, liaison mission, patient intake manager, and phone call guy. Communication was certainly strained by the fluid nature of the mission and the speed with which changes occurred. Ultimately, as Emergency Medicine physicians are trained to, my colleagues and I filled whatever role was required, serving to put out various fires for leadership and provide the vital link between the patient care floor and the administrative headquarters in constant planning meetings. While I do not claim to know the particulars of either floor, I maintain that our communication between the two allowed for perhaps the best overall view of JNYMS operations. This environment fostered the perfect opportunity to find our own niche and contribute how we saw fit.
As the mission opened, the JNYMS served as a non-COVID facility. Initially, the State of NY requested only personnel to staff the patient care floors, leaving our equipment idle outside the facility. Much to our frustration, we only accepted 11 patients because of the initial exclusion criteria which was very restrictive. After approximately three days, we were authorized to utilize some of our critical equipment and requests for the balance had been submitted. Simultaneously, the facility transitioned to a convalescent COVID facility to better target the potential patient transfers from NYC hospitals. Our target moved rapidly to the inpatients who needed oxygen weaning with minimal care needs and the overcrowded Emergency Departments. We quickly realized the difficulty of communicating and executing a new transfer process in a well-developed city and saw the need to provide liaisons to critical facilities that broke down barriers to allow rapid patient flow. We began to receive positive feedback from the outside hospitals and the relationships continually developed. After approximately 10 days of increased volumes, the admissions slowed and discharges began to outpace admissions. The diuresis continued for about a week and talk of retrograde operations emerged.
This remains one of the most unique experiences of my life and I am proud to have been a part of the mission. I have no doubt that the 1,095 patients we off-loaded from NYC hospitals helped their staffs, and it was very personally satisfying to see patients come through and discharge home. In addition to the invaluable experience of seeing the unit mobilize its personnel and equipment quickly, we had an economic impact on the blocks surrounding the Javits Convention Center and the families of the mobilized service members. Many of our civilian and military colleagues noted the impact of the pandemic on their home practice and spouse's employment. It is obviously hard to be away from family for two months in such trying times, but overall these were minor challenges compared to those facing the citizens and medical providers of New York. If nothing else, I hope someone picks up a few pearls from this writing. If you have any questions or concerns, I would love to hear from you and discuss further. Please feel free to write to tg.nessler@gmail.com for any questions.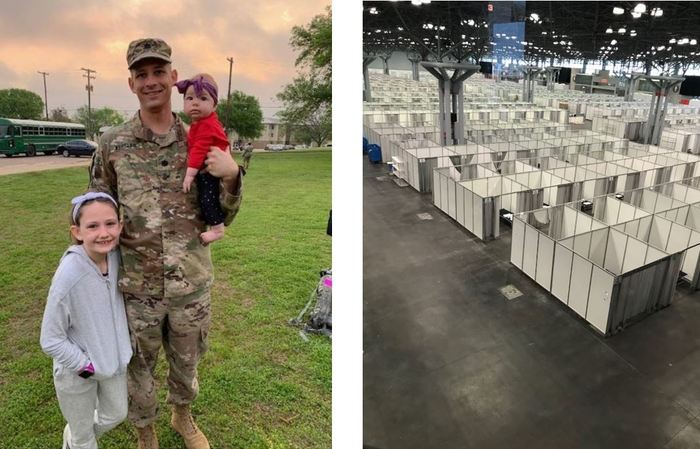 ---