05/05/2020
COVID-19 Resources
COVID-19 Resources
ACEP Resources on COVID-19: https://www.acep.org/corona/COVID-19/
Current COVID CPG with military best practices available here
---
Personal Accounts and Perspectives
---
COVID-19 Experience in New York City
LTC T.G. Nessler, MD
CRDAMC
Good afternoon! I write this article from the perspective of an O-5 Emergency Medicine physician assigned to Carl R Darnall Army Medical Center (CRDAMC) and MAP'ed to the 9th Hospital Center at Fort Hood, TX. We heard rumblings of an upcoming, short-notice deployment on a Friday, and received an official BPD order approximately 72 hours later. My colleagues and I left our home station on 26 March and traveled to Fort Dix, NJ for inprocessing. After a single overnight at Fort Dix, the unit moved via buses to the Javits New York Medical Station (JNYMS) and received a series of seven in-briefs to understand the larger concept behind our individual roles. After those briefs, I achieved SME status and gave those same briefs the following day due to conflicting schedules with the presenters. Notably, we were in NYC for several days before we received orders to deploy (DD Form 1610 in DTS), creating some strain for our families. It also prevented us from knowing how much we would receive for per diem, although rumors circulated that it averaged $76 per day. Interestingly, operations orders proved hard to come by, due to the speed with which events were changing.
We checked into various hotels within walking distance of JNYMS. Leadership gave geographical boundaries and we were required to travel in buddy teams at night. This seemed quite appropriate given the relatively empty streets due to New York's stay-at-home order. While most restaurants and stores closed due to the pandemic, a sufficient amount operated on a take-out or delivery basis including a Target and some corner stores that were operating 24 hours per day. We did not want for anything and several veteran/military organizations came by to make sure we had everything we needed (VFW rocks!!!). The government contracted for laundry, haircuts, and other services.
As expected, the unprecedented mission started fast and furious. Without exaggeration, I must have filled four jobs in the first five days, including assistance with development of inclusion criteria, liaison mission, patient intake manager, and phone call guy. Communication was certainly strained by the fluid nature of the mission and the speed with which changes occurred. Ultimately, as Emergency Medicine physicians are trained to, my colleagues and I filled whatever role was required, serving to put out various fires for leadership and provide the vital link between the patient care floor and the administrative headquarters in constant planning meetings. While I do not claim to know the particulars of either floor, I maintain that our communication between the two allowed for perhaps the best overall view of JNYMS operations. This environment fostered the perfect opportunity to find our own niche and contribute how we saw fit.
As the mission opened, the JNYMS served as a non-COVID facility. Initially, the State of NY requested only personnel to staff the patient care floors, leaving our equipment idle outside the facility. Much to our frustration, we only accepted 11 patients because of the initial exclusion criteria which was very restrictive. After approximately three days, we were authorized to utilize some of our critical equipment and requests for the balance had been submitted. Simultaneously, the facility transitioned to a convalescent COVID facility to better target the potential patient transfers from NYC hospitals. Our target moved rapidly to the inpatients who needed oxygen weaning with minimal care needs and the overcrowded Emergency Departments. We quickly realized the difficulty of communicating and executing a new transfer process in a well-developed city and saw the need to provide liaisons to critical facilities that broke down barriers to allow rapid patient flow. We began to receive positive feedback from the outside hospitals and the relationships continually developed. After approximately 10 days of increased volumes, the admissions slowed and discharges began to outpace admissions. The diuresis continued for about a week and talk of retrograde operations emerged.
This remains one of the most unique experiences of my life and I am proud to have been a part of the mission. I have no doubt that the 1,095 patients we off-loaded from NYC hospitals helped their staffs, and it was very personally satisfying to see patients come through and discharge home. In addition to the invaluable experience of seeing the unit mobilize its personnel and equipment quickly, we had an economic impact on the blocks surrounding the Javits Convention Center and the families of the mobilized service members. Many of our civilian and military colleagues noted the impact of the pandemic on their home practice and spouse's employment. It is obviously hard to be away from family for two months in such trying times, but overall these were minor challenges compared to those facing the citizens and medical providers of New York. If nothing else, I hope someone picks up a few pearls from this writing. If you have any questions or concerns, I would love to hear from you and discuss further. Please feel free to write to tg.nessler@gmail.com for any questions.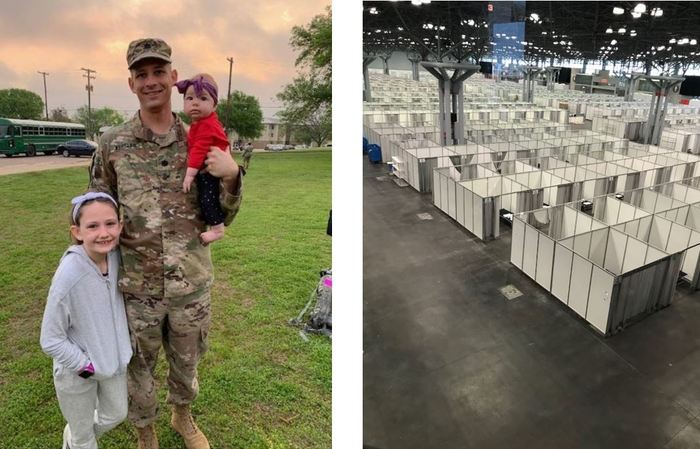 ---
Resident perspective on COVID-19
LT Danielle Wickman, MD
LAC+USC Medical Center
Life has definitely changed over the past few months. When I started this year, I was full of excitement and relief. I am two months shy of finishing residency at one of the most notoriously grueling residency programs in the country, and as a fourth-year resident, I looked forward to this reprieve. However, as we know, things do not always work out as planned, and we must be adaptive to change.
Because of the COVID-19 pandemic, I have had experiences I never thought I would. As ER doctors, we know and willingly accept the risk that we will be exposed to many infectious diseases. Initially, I mainly felt fear of the unknown;fear for my family, friends, and colleagues. I spent hours online daily, trying to best understand this new virus, how we could best protect ourselves, the clinical picture that patients would present with, and what therapies we could offer. Did my hospital have a plan? How would I best serve my patients while ensuring I was protected so I could continue working? In the very beginning, our hospital had limited access to testing, and PPE was being distributed on a "need" basis without clear guidelines of what PPE was required for each patient encounter. It was initially deemed unnecessary to wear a face mask at all times. We were reusing certain PPE items due to concern for future shortages. Luckily, my colleagues and I voiced our concerns and now have much improved access to PPE.
Information on COVID changed on a daily, even hourly basis, and we were inexperienced and unprepared to deal with a pandemic of this magnitude . My generation of physicians had not experienced a true pandemic. My residency program initially had only attendings seeing COVID rule outs, but when it became apparent that the numbers of these patients were increasing, this soon stopped. Our current policy is to try to stick to senior level residents seeing and performing high risk aerosolizing procedures on these patients, but as we know, there are many asymptomatic COVID carriers.
I personally had a COVID exposure and became sick with URI symptoms after attending a conference in New York. Initially, I was unable to get COVID testing myself. I felt guilt for calling off work and after working with symptoms and possibly exposing my patients without knowing if I had COVID myself. I chose to stay home, and found alternative ways to get tested. I ultimately had a negative test, but during my weeks of quarantine and isolation, I found myself feeling scared, anxious, and frustrated. Seeing our lack of access to timely testing made me wonder how we will handle this pandemic as a medical society. Who do we test? What is the policy if residents become sick? What is a high versus low risk exposure?
This pandemic has affected us all differently. The fear I initially felt has decreased as more access to appropriate PPE became available. However, one shift, while working in our "COVID" pod , I noticed my mask leaking. I have had colleagues whose mask straps have broken while intubating patients. I was able to get fit tested and found that none of the masks we have available for our staff fit properly to protect me from aerosolized particles. I now wear a PAPR if performing high risk aerosolizing procedures. While our PPE situation has improved, the initial lack of appropriate PPE caused a large sense of fear and frustration.
The social aspect of being a provider during this pandemic is something that has had profound impacts on physicians. I don't know when the next time I will be able to see and hug my family will be. Living alone is a blessing and a curse. I am lucky that I do not have to worry about exposing others on a regular basis, but I also find myself feeling isolated on days off. Being away from my support system has been mentally taxing. I know many of my colleagues are in the same boat, especially those who have had to isolate themselves from their spouses and children. I can only imagine how hard that must be. I am grateful for ACEP and the number of housing resources that have been made available to ER providers. I urge residents to seek out healthy methods of coping with this difficult time. Therapy can be immensely helpful, and I encourage others to seek out care for your mental health. We have technology that allows us to connect with each other. While it isn't the same as being in person, it is something.
I am due to PCS as a new officer in the Navy this summer. COVID-19 has created a large amount of uncertainty for medical students, residents, and current officers. The most recent guidelines have established a "stop movement" order until June 30. There are exceptions, which are listed in the current NAVADMIN guidelines. An important exception to note is that "travel associated with uniformed personnel recruiting and accessions activities, to include accessions, basic training, advanced individual training and follow‐on travel to the first duty station" is exempt from this stop movement order. As of this time, ODS is still occurring, but I have not heard formal details if there are modifications being made to promote social distancing. I would recommend reaching out to your respective command for further specific details.
At the end of the day, this pandemic will bring its challenges. I urge you to come together as a team and continue to look out for one another. We can choose to accept that this will be present for the time being and learn how to bring out the best in ourselves during trying times. Let us continue to be the leaders and make a positive impact in our society and in our profession.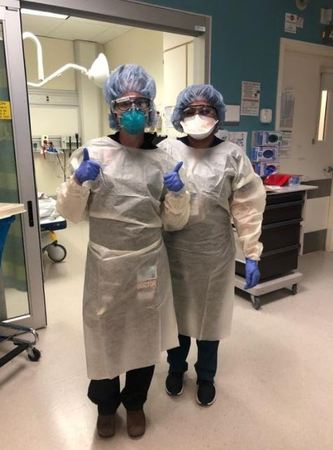 ---
COVID-19: Perspectives from ED Leadership
Jonie Hsiao, MD
VA Greater Los Angeles Healthcare System
March 5th was the day I realized that our Emergency Department's current leadership structure would not be able sustain us in the upcoming COVID-19 pandemic. The Chief and I (the Associate Chief) had already recruited one highly motivated faculty member to be a COVID co-champion. Although we were three highly functional and capable leaders, like everything COVID-19 has thrown at us, it was no longer business as usual. This was a novel disease that would require the creation and implementation of multiple new processes that would not only, continually change as we learned more about the disease, but required training on how to protect ourselves and those around us. The stakes were never higher. We needed a structure that was not dependent on a few to lead, but would utilize the fullest extent of all our faculty's creativity, energy and resourcefulness.
Ironically, that day was the same day my friend lectured about his work in the 2014-16 Ebola outbreak. It was the day National sent us a memo, asking all VA Emergency Departments to set-up telehealth. It was the day they delivered our PAPR units, and the following day would be the first of our weekly meetings with Infectious Disease.
Stress might have gotten the better of me, and for a brief moment it did. I panicked about the possibility of passing on COVID to my septuagenarian parents. But my emergency training kickstarted, like it does when the nurse calls you to the bedside stat, and panic turned into resolve. The only way to get a handle of the situation was through early and meticulous planning and preparation.
Our first priority was recruiting and assigning every member of our faculty to specific roles and workgroups. We established groups focused on PPE, airway protocols, code drills, creation of a URI tent, telehealth, and education. This turned out to be instrumental because a major challenge was the overwhelming amount of new information that needed to be reviewed, adapted, and disseminated. Assigning faculty members as subject-matter experts and dividing them into self-sufficient work groups ensured high-quality review of the latest information, ongoing collaboration in creative processes, and inherently designated multiple members as reliable sources of specific information for other staff.
Next, we selected another faculty member as a second COVID champion for oversight and to be another primary line of communication. This was necessary to keep up to date with daily incident command meetings and draft daily messages with ever-changing guidelines. We also relied on staff huddles while on shift because information changed by the hour.
We presented a COVID response organizational chart at our monthly faculty meeting on March 18th and folks jumped right in and started planning. All hands were now on deck. (See chart at the end of this document).
Our PPE champions and Airway team re-wrote the PAPR protocol for intubation and coordinated SIM training sessions for 30 physicians on staff. They also recorded videos of donning and doffing sessions and intubation procedures. The Airway team created a COVID specific intubation protocol and organized two new COVID Airway carts. In collaboration with nursing, our Drill champions organized regular Code practice drills and developed a Code protocol, limiting exposure by minimizing the number of providers needed in the room.
The creation of a screening tent was a massive endeavor set out by one of the co-champions, and its existence today is completely due to his leadership. It continues to serve a critical function where patients can be swabbed by the best trained staff, and it shields the rest of the hospital from the disease.
On top of immediate patient care, we also had to prepare for the possibility that staff would become ill or need to quarantine after an exposure. Telehealth would allow some providers to help support our anticipated increased work volume. Our champions learned about this new process and were ready to teach it to others.
With such laser focus on practical matters, like which type of mask was currently available to use, it would have been quite easy to neglect keeping up to date with the latest clinical information and research. Our educational champions' primary purpose was to review and digest the overwhelming barrage of new information and present it in an easy to read format for the rest of us.
Throughout the COVID crisis, the level of engagement and collaboration from our faculty has been the brightest silver lining. We have survived and thrived because we came together as a team. I am extremely proud of what we were able to accomplish in a short period of time. And I cannot think of a better place to work or a better group of colleagues and friends.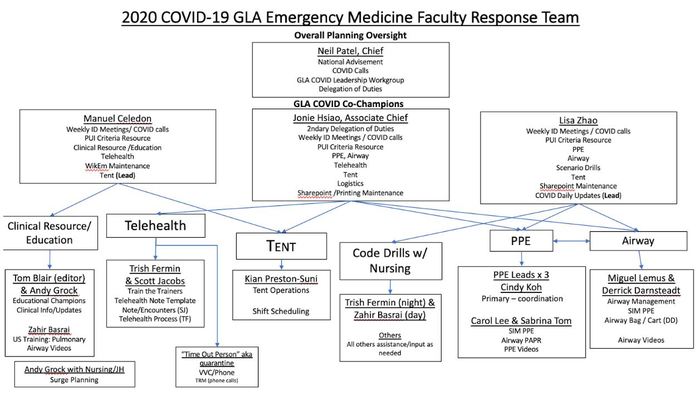 ---
ENS Mason Jackson
University of South Carolina School of Medicine Greenville
Regardless of who you are, what you do for a living, or how many times you have washed your hands, the COVID-19 pandemic has affected everyone one of us. To use a paraphrased quote from Station Eleven, for medical students like me, COVID-19 will be the line drawn through our lives, from which there is only a before and after; a pre- and post-COVID. Before, it was life as usual. My classmates and I were gearing up for USMLE Step 2 and trying to finish our third year as medical students as strongly as possible. The enthusiasm was palpable as we planned our M4 schedules and crossed our fingers about away rotations. We awaited the day when we could celebrate our recently matched friends, trying to hide the desperation of how badly we longed to open our own match day letters.
Life on the other side of this dividing line is one that my cohort of future physicians will not soon forget. We went from having a rough blueprint of success to only a blur filled with uncertainty. We received an email saying we had enough time to safely hand our patients off to our residents, but were otherwise to leave the clinical environment immediately. Our previously scheduled board exams and hopeful away rotations were cancelled instantly. Match day was filled with crushing isolation as friends saw where their futures rested, barred from celebrating with those they worked side by side with. No pomp and circumstance, just private joy.
The class of 2021 and myself seemed to have been so close to accomplishing so many long-awaited goals, but now the last few integral pieces of our plan have evaporated. What was a relatively certain future for almost 25,000 students has been shaken, and they are devoid of a central guiding plan to ensure they are on track to secure a spot for their rapidly approaching intern year. There is no telling when a whisper of normalcy will return to a medical system that needs doctors now more than ever, especially if predictions of a second infectious wave come true. However, the uncertainty of our collective future as physicians is not the thing that scares me the most. MS3s have been thrown into a helpless, functional state of disuse, and that has been one of the most eye-opening parts of this whole process.
Third year medical students are caught at a crossroads in our education as we are rapidly developing critical experience but also still require supervision. As a Navy HPSP student and prehospital medicine provider for going on seven years, this clinical purgatory is quite evident. All of us want to help, especially those on track to pursue emergency medicine. We see the sacrifices made by our resident and attending mentors. We see the countless hours spent in the department and how end of life care has changed as an emergency physician. We see the reports of physician suicide and desperately wonder, "what can I do to make a difference? How can I be helpful in the clinical environment to relieve the strain on the people I respect the most?" Yet we are met with the answer of "nothing." We are discouraged from or passed up for volunteer positions at veteran field hospitals in the heart of the outbreak. Our desire to help see the healthy patients in clinic are squashed as we are viewed as a liability. A trained, useful, motivated liability. That is one of the parts that hurts the worst for me. To be so close to making a difference yet, not being able to. It is my hope that I will never be passed over for the chance to help meet a need, based on training, again. The feeling of knowing people need your help, but that you are unable to meet that need is a terrible feeling. I do hope the clinical learning environment opens up again soon, so that the Class of 2021 can show their preceptors, patients, and the world what kind of physicians we will be and how motivated we are to answer a call for help. I implore students like myself not to take the learning we get every day for granted.
---
Torree McGowan, MD
I wear a bracelet on my left wrist. It's a terrible fashion choice. It used to be red, made out of thin metal. The red has now faded to just an occasional suggestion, but you can faintly make out the words on the band: SSGT Warren Newton. I have worn this band since 2000, over 20 years of a forgotten hero's legacy. It's a POW/MIA bracelet, carrying the name of an American warrior who never came home. I have worn it on my left wrist, just down from my watch, for these many years. It has never come off.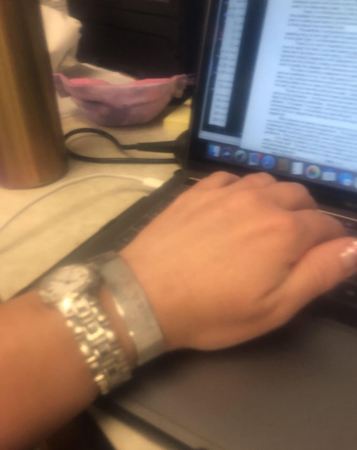 Blurry images taken through a ziploc bag to protect my phone.
Today, I'm thinking about taking it off for the first time.The fusillade of coronavirus patients is just starting to hit my hometown. I've already seen a few that I'm pretty sure have it, but the tense uncertainty of days of waiting for diagnosis leave me in limbo about how worried to be.
The sanitizer I compulsively smooth over my hands has left a raw area under my wedding ring, so last night I left the platinum band in a little dish in my bathroom. As I sit here in the quiet night, I contemplate what my next step needs to be to try to be just a little safer.
There is so much uncertainty about who may have it, and what they present with, and how to watch for them, you start seeing virions in every shadow these days. The headlines blare each day about a nurse dying, a doctor on a ventilator, a patient who presented with a ruptured ectopic pregnancy and happened to have coronavirus as well. The most terrifying stories are the doctors, nurses, and other frontline caregivers who are being asked to come to work to battle this disease with bandanas and trash bags for safety.
The idea of sending caregivers into patient rooms without appropriate protection is such an anathema to me, I can only glance at it out of the corner of my eye. The first thing we learn in any tactical medicine course or first responder training is the idea of scene safety. It's a mantra drilled into so many of the servant occupations: military, firefighting, police, medicine. You don't risk your own life until you're safe. Dead doctors can't save anyone.
Those of us who wade into these battlefields many places are being asked to do so without any protection. This feels like sending soldiers to a gun battle in flip-flops and a bathrobe. Doctors are being told not to wear masks because it might scare patients. I'm scared. I'm scared I will bring this home to my husband, who is immunosuppressed. I'm terrified my dad will get it. I'm okay if my patients get a little more scared from me. Maybe they will stay home, and help us get ahead of this exponential juggernaut.
Many places are asking nurses and doctors to continue seeing patients despite what we know is ineffective protective equipment. The Oregon Board of Nursing even came out with a statement that nurses couldn't refuse an assignment for a COVID patient if the facility follows Oregon Health Authority guidelines, even if those were not as stringent as the CDC and WHO guidelines. They are being told that not running into the cannon fire is patient abandonment.
I am deeply troubled by the blatant disregard that many hospitals are showing for the safety of their staff. The basic tenet of scene safety appears to be forgotten in many places, and administrators are asking others to take unacceptable risks when they ask us to work with inadequate equipment. I feel incredibly lucky that my hospital has continued to support us, but many are not so fortunate.
Aaron Mischler reflected on his time treating Ebola patients in West Africa several years ago - link. His words echo in my mind as I think about the risks we are asking of our caregivers: "Who is the most important person on the Ebola Treatment Unit? I am. There is no emergency in a pandemic." His words are some of the most important I've read during these troubled times. He is right; people are going to die in this outbreak. Many of them, we can't save. But for the ones we could save, if all of the doctors and nurses are sick or dead because of inadequate protection, we won't be able to save the heart attacks, the appendicitis, the salvageable COVID patients.
If the barrage of patients continues to increase and is not mirrored by increasing amounts of personal protective equipment, the doctors and nurses caring for this country will be asked to make a soul rending choice: do we rush in to save the one patient in front of us without any armor, or do we preserve the precious resource that is our medical workforce to be able to care for the next patient and the ones after that? Tremendous efforts are being made to get us safety gear, but for many, it may come too late.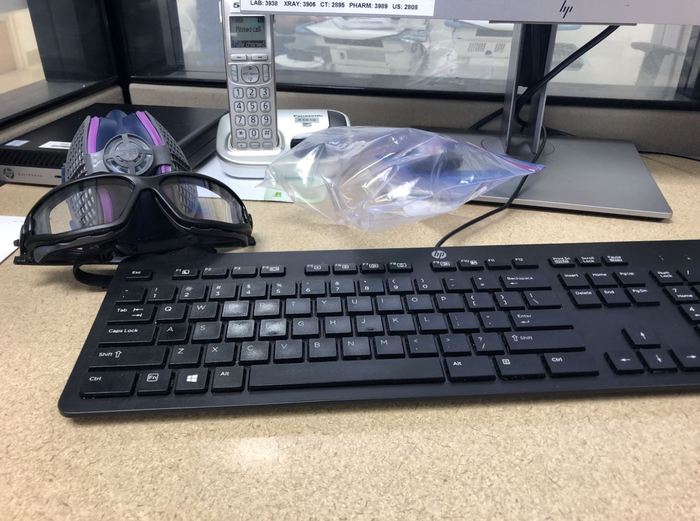 Waiting for the next skirmish
Every one of us who cares for these patients is doing every tiny thing we can to protect ourselves and our patients. Beards are disappearing. Previously unused hospital showers now have frequent visitors as shifts change and people begin their weary trips home. Fear makes glances slippery, and feet skitter around to try to keep appropriate social distancing in our close quarters.
I doubt there will be bracelets like the one I wear to commemorate the physicians and nurses we lose in this battle. I promised SSGT Newton that I would never take his bracelet off until he came home to his family. I'm afraid today that I will break that promise for the first time in 20 years. That bracelet and my watch will join my wedding ring, one more offering in a desperate prayer to keep this infection away from my door. I'm doing everything I can to secure the scene so I can keep helping patients. I'll continue to do so, as long as I'm armed enter the war zone safely.
---
Experience of the SOCEUR Surgeon in response to the COVID first peak in Stuttgart, Germany
COL Jay Baker, MD
Command Surgeon, Special Operations Command Europe
As an emergency medicine resident, I never imagined working for Special Operations Command Europe (SOCEUR), a two-star headquarters in Stuttgart, Germany, much less one that turned me into an international jetsetter. Since taking over this position in summer 2018, I've traveled for work to 11 European countries, with my family to seven more, and back and forth to CONUS several times yearly. I had briefly given up clinical emergency medicine again to live a globetrotting, expat way of life and was really enjoying it.
That high-flying lifestyle all changed the last week of February upon returning from a brief TDY in Belgium. Despite the first reporting of a COVID-19 case cluster in Northern Italy, it was hard to comprehend the sudden war footing taken by my fellow command surgeons. A couple of full days racing to catch up convinced me to turn my small staff into a full-time coronavirus information processing machine, and we just managed to keep the epidemic inside medical lanes for a few days more.
As COVID cases in Germany doubled every three days, I grew uneasy. My staff swam against the tidal wave of information that was rapidly swelling and I recognized a full SOCEUR staff effort would be required. To the great credit of the J3 operations officer, he embraced the ambiguous threat from the moment I walked into his office and announced, "Marcus, this is real." SOCEUR began operating from that moment to implement USEUCOM's Plan for Pandemic Influenza and Infectious Disease, and has been going gangbusters since that day.
The viral threat grew exponentially as SOCEUR and the rest of the US military community in Europe raced to stay ahead. Reported cases in the local area grew in two weeks from 35 to 600, and some quick napkin math showed that cases would reach 10,000 in two more weeks if doubling continued unabated. Around this time, President Trump announced the travel ban from most of Europe, and the first cases in US Army Garrison Stuttgart started trickling in. Two buildings away, a super-spreader unwittingly unpinned a viral hand grenade that ended up taking out a significant amount of personnel both for isolation and quarantine. This unlucky event reached over to SOCEUR and took out our first couple of COVID-positives too. Game on.
For all of us who've deployed, we know war is deadly serious business. We've seen and followed combat arms officers lead troops into battle, readied ourselves, and responded quickly and expertly according to the need. The first several weeks of COVID response was no different, but for the first time medical was suddenly thrust to the tip of the spear as the main effort.
At a staff headquarters against this particular enemy, our task simply came down to knowledge management and execution. The volume of meetings and emails were incredible, as we fought to keep up with the news, the literature, CDC guidance, daily orders from two 4-star headquarters, and the hasty preparations of Garrison command. We churned and jammed out the products and guidance SOCEUR needed to respond effectively to a pandemic emergency, drawing up prevention products, case identification products, quarantine and isolation products, tracing and cleaning products, reporting products, and tracking products to monitor country-level risk across the area of operations. Not only were we flying the airplane while building it, we were drawing the blueprints too.
Just in the nick of time, as Garrison shut down and SOCEUR implemented mission critical manning, we set the medical framework before losing half my office to isolation and quarantine for 14 days. Despite being ill, my team worked from home, eventually managing more than a handful of COVID-positive personnel and many, many more in quarantine. Meanwhile, Germany had shut down too, progressing through various stages of public health measures, from canceling schools to shutting groceries, etc… you know the rest.
SOCEUR has since returned to higher manning levels with no permanent losses or even real scares across the command. We're adjusting to the new operating environment and are increasing the readiness and capabilities of our forward deployed SOF elements. For example, we're pushing CPAP and more oxygen to our medics downrange.
Eastern Europe apparently learned from its western neighbors and has achieved much lower infection rates, at least for now. Our top concern is helping our deployed teams weather the following peaks, which, if the example of the 1918 flu pandemic is any clue, could be far greater. Strange bonus, I've become a pandemic emergency epidemiologist along the way.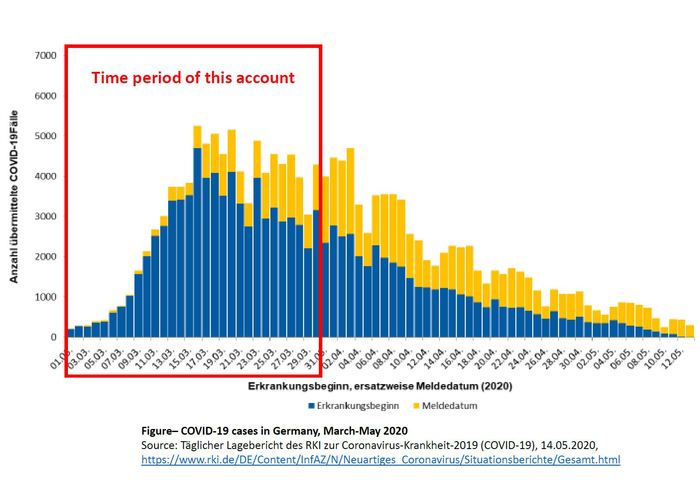 ---
MAJ Laura Tilley, MD FACEP
Assistant Professor, USUHS, Department of Military and Emergency Medicine
On April 1, 2020, the Uniformed Services University of the Health Sciences (USUHS) graduated roughly 170 medical students and 60 graduate-level nursing students 6-weeks ahead of schedule in order to support the COVID-19 pandemic. The new physicians immediately began working in the Washington, D.C. area primarily screening incoming patients. The nursing graduates proceeded directly to their new duty assignments. Twenty of this year's School of Medicine (SOM) graduates, roughly 12% of the class, were selected for Emergency Medicine residencies and will soon start their training at either military or civilian programs. Due to the unique military medicine curriculum at USUHS SOM, these students are particularly well trained in emergency management, emerging infectious disease, and disaster response.
Please join me in congratulating them on this tremendous achievement. Their hard work and perseverance over the past years and particularly during the past few months, has not gone unnoticed. We look forward to welcoming them into the world of emergency medicine and seeing what they will accomplish.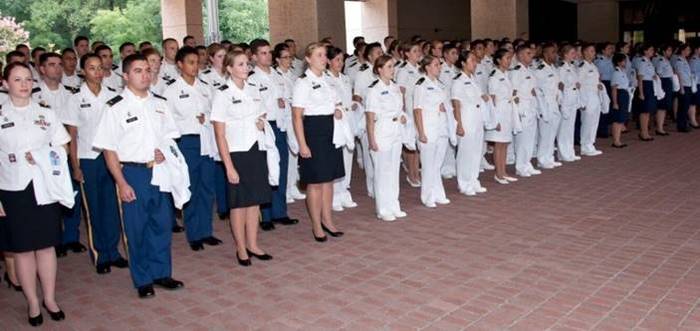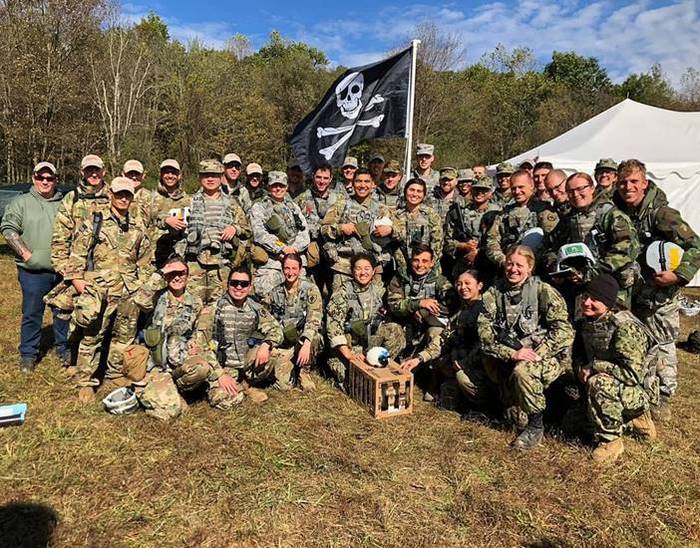 The opinions and assertions expressed herein are those of the author(s) and do not necessarily reflect the official policy or position of the Uniformed Services University or the Department of Defense.
---
New York City Field Hospital Highlights Skills of Special Operations Forces Medics
COL (ret) Melissa Givens, MD
The New York-Presbyterian (NYP) Ryan F. Larkin Field Hospital is a 200+ bed field hospital adjacent to NYP Allen Hospital and located inside the "Bubble" within Columbia University's Baker Athletic Complex. The NYP Ryan Larkin Field Hospital (NYP-RLFH) began providing critical surge capacity for inpatient medical care of COVID positive adults beginning in mid-April.
After driving to NYC on April 2nd to see how I could help in the pandemic, I realized there were desperate medical staffing needs across NYC. I was connected by Dr. Steven Rush, a NY native physician who works with the Air Force pararescue community, to Dr. Laureen Hill, COO of NYP/Columbia University Irving Medical Center. Dr. Hill was leading an effort to construct overflow patient care spaces but did not yet have a means to staff the facility. After hearing my idea to staff the field hospital with veteran volunteers, we agreed to proceed with additional assistance from Dr. Kate Kemplin, a former EM nurse colleague. My intent to utilize Special Operations medics was built on a backbone of experience providing medical support for the Special Operations Community and Dr. Kemplin's published expertise in defining Special Operations Medics' competencies.
After talking to Dr. Hill on the evening of April 4th, I tapped into my veteran network by posting a Google form on social media. In a few hours, around 50 people responded. The following day, the request for help was shared with several veterans groups and Special Operations Forces groups. Naming the hospital after Ryan Larkin, a Navy SEAL sniper and medic whose suicide represents the need to raise awareness for military traumatic brain injury, served as a rallying cry.
While NYP was transforming a soccer field into a hospital, my team and I were forming teams of medical professionals ready to travel to NYC with only a few days notice. Hundreds of phone calls and emails were exchanged, and ultimately over 150 people agreed to travel to NYC, including many former Special Operations Forces medics. They knew little more than that they would be caring for COVID positive patients and NYP would provide lodging, food, and a fair wage. The underlying spirit amidst those who responded was one of servitude and a desire to help American citizens suffering during a pandemic.
The advance team converged on NYC on April 8th and met with the NYP team already heavily involved in hospital construction. When the team took their first tour of the "Bubble," the flooring was just being installed. The NYP team and the Ryan Larkin team quickly began to collaborate and merge into one cohesive team to facilitate the reception and on boarding of 150 clinical staff. Just one week and a day from the time the idea was exchanged between Dr Hill and I, the NYP-RLFH opened and received its first patients.
At the writing of this article the field hospital continues to see patients and provide critical offloading to the taxed NYP hospital system. The field hospital has operated without a single employee falling ill to COVID despite caring only for COVID positive patients. The field hospital has also successfully employed Special Operations Forces medics practicing at an RN equivalent after a brief bridging period. Over 900 people have since volunteered using that original Google form, and with the help of Dr Steve Rush, many of these volunteers have been employed in hospitals across NYC. I feel so fortunate to be working with such motivated, skilled and caring individuals. The work they are doing is second to none and I will be forever grateful for their willingness to answer the call.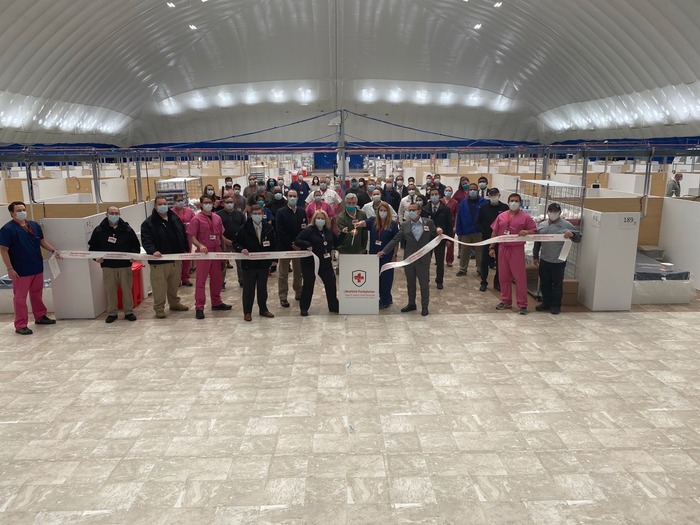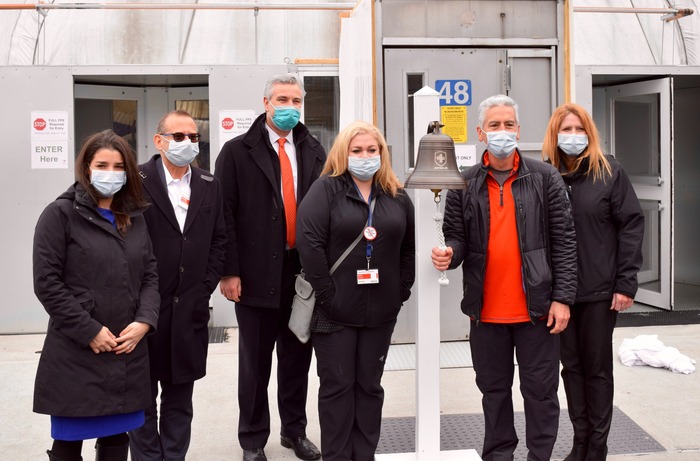 ---
Greetings from the Javits Center in New York City
CDR Bradley Butler, MD FACEP FAAEM
Emergency Medicine Specialty Leader - Navy Reserve
Greetings fellow GSACEP members from the Javits Center in NYC, where I am currently deployed in support of the COVID-19 response with JTF Silver Dragons alongside our colleagues from the Army, Air Force, and US Public Health Service. We have cared for over 2,000 patients at the Javits Center, on the USNS Comfort, and in the community!
I have never been prouder to be an emergency physician, especially one in the military! As the current Emergency Medicine Specialty Leader for Navy Reserve Medicine, I am very proud of my Navy Reserve colleagues for their patriotic medical support of our country,our service members, and our allies serving around the world!
Allow me to share some statistics on Navy Reserve Emergency Medicine. Currently we have nearly a third of our entire force deployed on active duty! Half are deployed CONUS in support of the COVID-19 response in NYC, and half OCONUS in support of military operations around the world. Our own recently promoted RDML Pamela Miller is leading many Navy Reserve efforts on the east coast, including the USNS Comfort mission in NYC. Two emergency physicians will be advising the Marine CENTCOM CG as MARCENT Surgeon (CAPT(sel) Delk) and MARCENT Deputy Surgeon (CDR Byrne). Another half dozen will be spinning up to deploy over the next six months. Most of us who deployed CONUS in support of the COVID-19 response waived dwell and volunteered for the deployment. Nearly two thirds of those deployed CONUS were volunteers. At least three members have returned from a deployment within the last six months. Two members currently deployed both volunteered for the deployment and are less than a year out of finishing their EM residencies (ooh rah LT Reeder and LT McCreary!). An additional half dozen Navy Reserve emergency physicians volunteered to deploy in support of the COVID-19 response but were not needed, including retired Navy Reserve CDR Mark Plaster! All of this, in addition to supporting our own communities back home, taking care of COVID-19 patients in addition to our "regular" ED patients.
It is certainly a great time to be an Emergency Physician with Navy Reserve Medicine. Thank you all for your service. You make me proud to humbly serve as your Specialty Leader!
"Navy Reserve Emergency Medicine- a ready medical force ensuring a medically ready force"

---
CPT Matthew Mischo, MD
Madigan Emergency Medicine Residency
I've been learning a lot about humility these past two months.
Humbled, as I walk out of a child's room after talking to her anxious father. Yes, this could be the virus you've heard about on the news. No, I'm not going to test your daughter for it. Yes, I know they're saying everyone should be tested, but there are only six swabs left in the entire hospital. I know you're frustrated. I am, too. I know I should be able to do more. I can call the hospital down the road, if you want, but I expect they're in the exact same situation. Strangely, I have time to do that, for once.
Humbled, as I talk with a friend from med school. A resident in pediatrics in a city harder hit than us, pulled from his clinic last week to man an adult ICU. Volunteering because he's young, he's healthy, he's single, and we both know of providers who've died from this already. He doesn't wear a uniform, but he understands that he signed up for this every bit as much as I did, despite social media posts from some medical peers claiming the opposite. Because he took an oath when he graduated medical school—the same oath I did—and one that comes with just as much duty as the one I swore in front of an American flag. But just because he probably won't get sick, doesn't mean he isn't at risk for damage. That much is obvious as he tells me how he watched another patient die, and I hear in his voice that it's shaken him. A patient his same age, without medical problems, either. Part of the job we signed up for, again, but that knowledge doesn't make it any easier for him.
Humbled, as I open the news on my phone, or check IHME predictions one more time. To see how a mindless string of protein a thousand times smaller than the width of a hair can bring a global society screeching to a halt. How it can force us, all together, to stop and realize just how very small we are. That despite our ability to reshape mountains and molecules, we are so, so very far from omnipotent. That the natural world isn't cruel, or cold, or malicious. That it's simply indifferent to the fate of the few billion organisms among its nearly-infinite, uncountable trillions who share the same inflated sense of self-importance that I do. And that feeling of powerlessness cuts me deep, especially for someone whose ego is perhaps a bit too large.
Humbled, as I walk into a breakroom crowded with donated food. With cards from people I've never met filled with kind words I feel I've done little to deserve. As I hear story after story of helpers across the world, both large and small. Of teenagers manufacturing masks on 3-D printers inside their garages. Of neighbors supporting neighbors they scarcely talked to half a year ago. Of simple thank you's, and genuine gestures of affection that mean so much more when handshakes and hugs are forbidden.
Viruses may be indifferent, but my species certainly is not. And that doesn't erase all of the above. Not the anxiety a parent feels, or the helplessness of a healer who has no tools left to heal. It doesn't negate the fears of a society facing trade offs it never imagined, or the uncomfortable weight of existential truths that we can't ignore in a time like this. But I think it's important, nonetheless.
Sometimes when your job is to look for suffering, suffering is all you're inclined to find. And at the risk of sounding horribly cliche, it's easy to forget how beautiful this indifferent world is, and how genuinely good the people living on it can be. That kindness and compassion may not be features of the landscape, but that humans carry so much of both with us. And that, more than anything else, leaves me humbled.
---
Finding new roles and possibilities in the non-clinical setting: A medical student perspective during COVID-19
ENS Saki Kitadai
Tufts University School of Medicine
It was shocking to find that email in my inbox on March 16th, addressed to our entire class from the Dean's office. The words "rapidity" and "serious" were embedded within it, but one particular phrase hung heavily on my mind: today will be your final day. Due to COVID-19, we were dismissed from all clinical sites until further notice. I sat there stunned, less so by the inevitable decision that had been looming over our heads for weeks, but by a sense of loss that only grew in the following days as we transitioned from hospital to virtual learning. As a third-year medical student, this past year was about finally applying our classroom knowledge and learning from patients, clinical decision-making, and the triumphs and lessons embedded in the process of disease management. We'd been taught how to function on a multifaceted team, and act in our own capacity as students to help provide patient care. Finally, after spending most of the year learning about and experiencing a wide range of specialties, I had come across emergency medicine and felt like I'd found the field for me. I couldn't wait to spend more time in the emergency department after my final clerkship. However, we had lost our hospital privileges overnight, and with them a sense of belonging that we'd nurtured over our year in the clinical environment.
Looking back, I was my own biggest obstacle in the first few weeks away from the hospital. On one hand, there were the general worries brought on by the pandemic, including the high-risk members in my home, the health of family living far away, navigating social distancing in a small and overcrowded neighborhood, and having future plans placed on hold. On the other, I felt grief and guilt over my own inaction at a time when the entire healthcare system was under duress, and my own mentors and friends remained at the front lines of the crisis. If only I'd been further along in my training! If only my obligation was to get out there instead of staying in class!
However, the initial panic eventually gave way to forward momentum. One of the wonderful things that I and many others have witnessed during the time is the ability of people to come together and build one another up in new and creative ways. I am proud of members of my own class who have taken the opportunity to mobilize volunteer groups, deliver groceries, and help with case tracking all over the country. I found my support in a group of fellow students who noticed that buildings and campuses all over Massachusetts were being vacated in the wake of the COVID outbreak, at the same time that organizations were urging local government to reduce the burden of disease among individuals experiencing homelessness and/or incarceration. Over the next few weeks, we wrote proposal letters to our university administrations advocating for dormitory spaces to be allocated to unhoused members of the community. Along with the help of my friends and mentors, I began facilitating an intercollegiate coalition of students from all over Greater Boston who have worked together to draft letters to school administrations and advocated to local legislators to increase housing supports using spare campus and hotel spaces.
Through this process, I have met students and stakeholders of all backgrounds, learned more about the intersection of medicine, law, and public health than I ever did in my school courses, and have been humbled by those who have dedicated their entire careers to health equity and service. Furthermore, I have been reminded of the ways that emergency medicine is public health medicine, and how my ability to advocate for both medically and socially vulnerable populations will impact the acute illnesses that I hope to eventually manage in the emergency department. Despite the initial shock of being taken "out of action" in my clerkships, I am grateful for the opportunity to redefine what it means for me to take action outside of the hospital. That being said, THANK YOU to all those who continue to dedicate themselves to the health and care of others in the clinical setting!