---
A Note from the GSACEP President
Happy New Year to all,
It is my privilege to be able to speak to you through this first issue of the 2020 Epic. As we close out 2019, I would like to thank all of you for your involvement and efforts to make our chapter one of the most productive ones within the college. This was an exciting year for us with incredible accomplishments due to the contributions of our membership. At this past years council meeting Dr Gillian Schmitz was re-elected to the ACEP Board of Directors where she will continue to lead our college and our specialty. The chapter also co-sponsored a council resolution on High Threat Emergency Casualty Care which was passed.
The Government Services Symposium was held in Nashville, Tennessee and was a complete success with a superb attendance. The conference committee led by our president elect Dr Andrea Austin did a phenomenal job developing an incredible curriculum. The committee has been hard at work preparing for this year's conference which will be held in March in Orlando, Florida. I look forward to seeing many of you there.
Our chapter membership is strong and our chapter is financially solvent. This upcoming spring your Board of Directors will be meeting to complete a strategic review of the chapter. This is an important process where priorities will be reassessed to ensure that our chapter is meeting the needs of our membership. I encourage all who want to become involved to reach out to one of the members of the chapter Board of Directors. There are many ways to contribute to include participation in one of our committees or running for office. For those aspiring to run for office, thank you for wanting to step in to a chapter leadership role. Your contributions are what will take our chapter to the next level.
Our chapter membership continues to make an impact in everything we do, from academics, leadership in federal institutions to operational military medicine. I cannot be prouder to be part of this organization.
I wish everyone a successful and healthy 2020!
Regards,
Julio Lairet
---
Government Services 2020 Symposium Frequently asked Questions
Andrea Austin, MD, FACEP, FAAEM,CHSE
President-elect GSACEP, GSS 2020 Conference Chair
LCDR MC USN
Joshua da Silva, DO
Capt MC USAF
Q: When will the symposium take place? Where is it located?
A: The symposium this year will take place in Orlando, Florida from March 20-23.
Q: How can I register? What are the registration rates?
A: All information for the conference, including registration and hotel reservations is through our website. Registrations rates for a GSACEP member is $450, for a non-member is $500, and for a medical student is $150.
Q: Am I eligible for the member rate?
A: All 2019-2020 GSACEP members are eligible for Annual Symposium member rates. If you have questions about your membership status, please email Info@GSACEP.org or call (503) 542-8154 .
Q: How can I reserve a hotel room? What are the rates and what is the deadline?
A: The special rates for lodging will be offered through Embassy Suites by Hilton Lake Buena Vista Resort. The offer is currently open and extends to January 30, 2020. Please use the hotel website link on the GSACEP site to access the reduced rate here.
Q: Are there any workshops offered?
A: Day 1 of the conference is Simulation based. Attendees will rotate to various stations to hone operational medicine skills including Walking Blood Bank lab, REBOA placement, and advanced tourniquet skills. In the afternoon, residents SimWars will take place, everyone is encouraged to cheer on their favorite military residency program!
Q: What's the policy regarding children at GSS20 and is daytime childcare available?
A: Either email Ms. Liz Mesberg at execdirector@gsacep.org or mark it on your registration form. Based on interest, we will notify attendees of childcare options.
Q: What should I wear to GSACEP2020 events?
| | | |
| --- | --- | --- |
| Dress Code | Speaker | Attendee |
| Navy | Dress Blues | Khakis |
| Army | ASU | OCP |
| Air Force | Service Dress | Blues |
| GS & Civilian | Business | Business casual |
For GSS reception on March 22nd, smart casual recommended. Other social functions, casual dress.
Q: How may CME credits can I earn by attending the symposium?
A: We are in the process of applying for CME, which means we can't advertise the exact amount yet; but we have over 20 hours of educational sessions planned!
Q: How do I sign up for Sim Wars? What is the deadline?
A: Sign-up here.
Final date to sign-up is TBD, but will likely close no later than Feb. 1st, 2020. For questions regarding SimWars, please email Major Rod Fontenette, roderick68@hotmail.com
Q: How do I sign up for the Research Forum? When is the deadline?
A: Sign-up here.
Submissions are due January 24th, 2020.
Q: How do I sign-up for the New Speakers Forum? When is the deadline?
A: Sign-up here.
Submissions are due January 24th, 2020.
Q: How can my organization become a conference sponsor?
A: Please fill out the on-line form available here.
Further questions may be directed to our Chapter Executive, Ms. Liz Mesberg, at execdirector@gsacep.org
Q: What services are available for special needs and requests?
A: We will work to accommodate any special needs in conjunction with the hotel. Please direct any requests to our Chapter Executive, Ms. Liz Mesberg, execdirector@gsacep.org
Q: My question is not listed here. Whom do I contact?
A: All questions can be directed to execdirector@gsacep.org or call (503) 542-8154.
---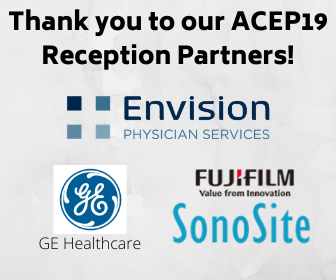 ---
The MCG Educational Program in Military and Tactical Medicine
The Medical College of Georgia at Augusta University Emergency Medicine Residency Program runs a hybrid military / civilian program. This program allows for a number of unique educational programs in operational medical support. The Center of Operational Medicine (COM) provides a number of operational and educational programs that enable MCG EM Residents to engage in programs to enhance their education and clinical field experience. The program is overseen by LTC Daniel Schwartz, MD, FACEP, FAEMS the Director of Tactical Medicine MCG, and includes numerous faculty members with extensive experience in military, operational, and law enforcement medicine.
The COM Tactical Medical Program and the STORM TEMS educational program enable EM residents to engage with military and law enforcement agencies. EM residents are provided comprehensive education in Tactical Emergency Medical Services (TEMS), Tactical Combat Casualty Care (TCCC) and Tactical Emergency Casualty Care (TECC). Residents are also provided with military-specific training and education to enhance their familiarity with the realities of a deployed environment, including aviation medical support and firearms competency education from law enforcement training professionals.
Residents that demonstrate competency in these areas are also encouraged to join the COM – Tactical Medical Support group (CTAC). The CTAC provides close medical support to local, state, and federal law enforcement agencies during high-threat events. Residents also engage in numerous training and educational programs for law enforcement agencies. Residents with the CTAC at MCG have provided TECC lectures for law enforcement, and frequently participate in active-shooter response drills, hostage rescue training, and a variety of law-enforcement training programs.
POC for this program is: LTC Daniel Schwartz - dschwartz1@augusta.edu
MCG Residents Engage with local Fire, EMS and Law Enforcement during an active-shooter drill at a local School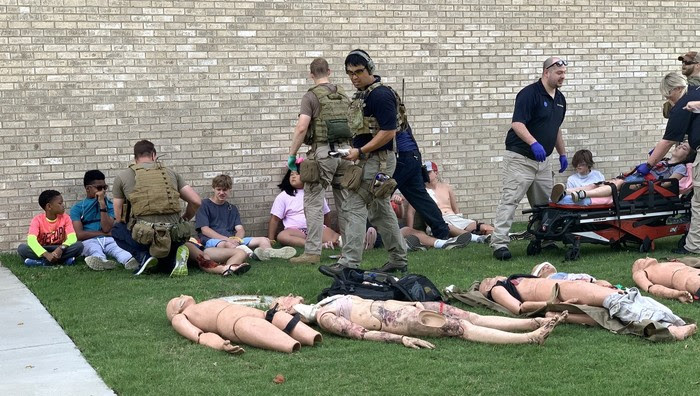 High Threat Medical Rescue Training with the MCG CTAC
MCG Residents get a MedEvac Familiarization and Orientation Flight from the GA National Guard
MCG CTAC Residents receive Law Enforcement firearms training and qualification.
---
GSACEP Elections- Ballot coming soon!
Have you ever wanted to see what goes on behind the scenes of GSACEP? Do you want to impact change, bring your unique perspective and experience to the table? Now is the time to consider joining the board! We will be filling the following roles:
- President Elect: This is a 3 year commitment, as you will spend 1 year as President
Elect, 1 year as President and 1 year as Immediate Past President
- Councilor: 2 year position, with commitment to try and attend Council both years
(check here for dates & locations, Council is the 2 days before Scientific Assembly)
- Interest in committees: not an official board role, but we are re-invigorating our
committees- this is a great way to get active in the Chapter!
- Secretary-Treasurer: 3 year position, stay tuned, position opens in 2021!
What are the duties of the Board of Director positions?
It's important to understand the roles of the positions and the time needed to dedicate to GSACEP. The majority of the time commitment for each of the positions is highly influenced by the time of year (Council meeting) or the issues that are being addressed. Meetings usually occur by phone every other month, and once per year during Scientific Assembly. There may be an additional meeting just before Council Meeting to review the proposed resolutions. Members of the Board of Directors do try to attend Leadership and Advocacy Meeting although this is not a requirement. In general, the Board of Directors for GSACEP is the workhorse of the chapter, representing the members of the chapter on different issues and works as a liaison to ACEP. Here is a short synopsis of what the duties are of each position.

President – The president oversees the Board of Directors acting as the executive officer in all matters. This person will be running the telephonic meetings and acts on behalf of the chapter on topics and correspondences that might come up during the year. They work very closely with the chapter's executive assistant. The President position is elected for a three year term in which the first year will be dedicated in the position of President-Elect working closely with the President and learning the position for the following year. Second year is acting President, and the third year is Immediate-Past President which acts as an advisory position to the current President.

Councilor - The councilors are elected from the chapter membership representative of 100 members. The number of counsellors that GSACEP is allotted therefore depends on the number of members are in our chapter at the time of determination. Alternate Councilors are designated by the BOD to be at the council in the event current Councilors are unavailable. As a Councilor and member of the Board of Directors, duties require participation in meetings and Council attendance, review of ACEP resolutions, participation in GSACEP committees, or any other duty as required by the President.

Secretary-Treasurer - The secretary/treasurer is responsible for creating and maintaining financial accounts and records for the chapter. This person works closely with any accountant and reports chapter finances during the meetings. The secretary-treasurer is also responsible for ensuring that the chapter is compliant with governing the use of the ACEP mark, and ensuring bylaws of the chapter are followed. Secretary-Treasurer also is a member of the BOD as a voting member.
Please submit your letter of intent here by January 17, 2020.
I'm already busy, why should I run for the board?

"I have served in various roles for over a decade on the GSACEP Board, and it has been one of the most important roles of my career. The connections I have made through GSACEP have created an incredible network of trusted colleagues in all three services, as well as into the civilian world where I am now. Attending Council and hearing greats like Greg Henry talk about the big debates in medicine is a great thrill, and I love getting to be part of shaping the future of our specialty. The GSACEP Board has created great strides for our federal physicians, and there is no better role to be able to help your fellow physicians."
-Torree McGowan, MD, FACEP Councilor

"From the first interaction with former President, Colonel Givens, I felt welcomed into the GSACEP community. This chapter has provided the support and mentorship for me to pursue my interests in education through my first experience running GSS SimWars to later as Conference Chair. It is amazing at my stage of my career to have so many senior leaders that I can call on for guidance, and from across all branches. I also really appreciate that GSACEP connects me to ACEP, and I've learned a lot from attending Council and working with Dr. Gillian Schmitz."
-Andrea Austin, MD, FACEP, President-elect

You get more than you give serving on the Board. Over 2 decades of service to GSACEP and ACEP Boards have provided me with a rich network of colleagues who have helped me throughout my career. Even more valuable is our friendship... priceless.
-Linda Lawrence, MD, FACEP, Former President, ACEP

"At first, I was reluctant to get involved with GSACEP because I was not very familiar with Chapter leadership and I didn't know what I was signing up for. But I have never been so glad that a colleague gave me that gentle push to step up and learn more. Being involved in GSACEP was foundational to my national leadership within ACEP. It helped me learn what regional and national topics were of interest to military physicians, how we could advocate for military medicine, and how we could make a difference. The networking and opportunities to serve with military and national leaders in the Army, Air Force, Navy, Reserves, and the VA has opened up doors I did not know even existed. Chapter leadership taught me a lot about finance, managing a budget, organizing and maintaining committees, running a meeting, planning a regional conference, developing awards and mentoring military physicians. I am incredibly grateful for the leadership skills I learned, the friends I made, and the opportunities I was given to participate and make a meaningful difference on a national level."
-Gillian Schmitz, MD, FACEP, Vice President, ACEP
"GSACEP has been one of the most valuable experiences in my medical career. Becoming involved in Emergency Medicine leadership on the national level broadens your military EM career. Working on national level issues pertaining EM as well as networking and meeting other physician leaders of all services has been one of the best things about GSACEP. Military career advice, finding jobs, transitions in the military, academic support, it's all available in this organization. In addition, the amazing friends and colleagues that I have met through the years are priceless. As opposed to other academic organizations, this one is about military EM physicians and is very supportive of our mission and issues related to things like deployments and administrative issues. GSACEP has made a difference in my life and I feel I have also contributed to my profession in a very meaningful way."
-Nadia Pearson, DO FACEP, Former President GSACEP
Please submit your letter of intent here by January 17, 2020.
---
Happy New Year, GSACEP members!
It's time to kick-off our scholarship & awards season for 2020. Completed application forms can be emailed directly to Liz at: execdirector@gsacep.org
Scholarships now open:
Resident Leadership and Advocacy Grant
The GSACEP Resident Leadership and Advocacy Grant is intended to expose GSACEP resident members to the importance of emergency medicine advocacy and to introduce government services specific issues of importance. We hope this grant encourages increased involvement in the Government Services Chapter and cultivates future EM leaders.
The grant covers expenses for residents to attend the ACEP Leadership and Advocacy Conference in Washington DC. GSACEP will cover airfare, hotel and per diem for the length of the conference (usually a 3 day conference in March). Traditionally, residents are also treated to a dinner with GSACEP leadership and members following the Opening Reception.
Deadline to apply- Feb 24
>>DOWNLOAD the GSACEP L&A Grant Application<<
Bernadette Carr Legacy Scholarship
Any member of the Government Services Chapter of the American College of Emergency Physicians (GSACEP) may nominate himself/herself or another member for this scholarship. The leadership team of any hospital or military treatment facility may nominate a GSACEP member for this scholarship. The nominee must be a GSACEP member.
Recipients of the Legacy Scholarship receive complimentary registration to the Government Services Symposium and an honorarium to include hotel expenses and $500 towards travel. Recipients are expected to attend the GSACEP Board of Directors Meeting during GSS and meaningfully participate.
Deadline to apply- Feb 1
>>DOWNLOAD the GSACEP Bernie Carr Scholarship Application<<
---
Bench to Battlefield: Translational Combat Research
The Combat Trauma Research Group (CTRG) is a part of the Naval Medical Center Portsmouth's (NMCP) Emergency Medicine Department, and was founded over 10 years ago. It is a group of motivated attendings and residents from various fields including Emergency Medicine, General and Trauma Surgery, Anesthesia, and Internal Medicine. In the last year alone, the CTRG has won six awards at the Academic Research Competition for Navy Medicine East and four awards at the Academic Research Competition for Navy Medicine West, presented at multiple national conferences and submitted six publications. Currently, the group has twenty-four active protocols and over $1.7 million in recent appropriations for combat trauma research. In 2018, CTRG received the Defense Health Agency's Award for Research Accomplishment (Large Team category), the highest medical research award offered in the US military.
Since its inception thirteen years ago, the CTRG has grown from three members to over forty and includes residents and staff from the Departments of Emergency Medicine, Surgery, Radiology, Orthopedics, Anesthesiology, En Route Care Nursing and Critical Care. The group continues to focus primarily on translational research models as well as end-user training protocols and therapeutic effectiveness. The CTRG takes research questions directly from operational units and knowledge gaps identified by the CoTCCC and other specialty working groups. CTRG's research allows our Residents and Staff to have a direct and meaningful impact on pre-hospital, enroute, and in-hospital military medicine. Our multi-disciplinary research group comprised of Critical Wartime Specialties continues to strive towards a goal that has not changed since the inception of the first pilot study in 2004, to protect, enhance, or restore the health and safety of members of the Armed Services.
How We Got Here
In 2004, the Combat Trauma Research Group (CTRG) originated at Naval Medical Center Portsmouth with a pilot study by Dr. Jose Henao, who studied how treatment with the exothermic first-generation hemostatic agent QuikClot damaged healthy tissue in combat wounds. Although this study was unpublished, it spurred excitement from several members of the Emergency Medicine Department, leading to a follow-up study by Dr. Buddy Kozen, which was published in Academic Emergency Medicine. Thus, in 2007, the Hemostatic Agent Working Group (HAWG) was officially founded. The name was changed to CTRG when the mission of the group expanded to include lifesaving agents other than hemostatic agents. Over the next several years, Drs. John Devlin, Lanny Littlejohn, Richard Schreckengaust, Joseph Kotora and Sean Conley published ground breaking research and reviews on a variety of topics including directly applied hemostatic agents, tourniquet application effectiveness, ventilated chest seals and management of severe hemorrhage with pharmaceutical agents, all designed to improve combat casualty care. The group's findings have directly influenced and supported changes to the Committee on TCCC's official guidelines.
Throughout its history, the CTRG is routinely directed by an Emergency Medicine physician with extensive military operational experience. Nearly 100% of CTRG members are full time clinical faculty, most possessing extensive operational experience, giving them direct insight into issues facing casualty care. The group is supported by a PhD-trained program manager, DVM-trained protocol developer, three clinical research coordinators, a biomechanical engineer and three animal research technicians. Additionally, the CTRG has access to the NMCP Clinical Investigation Department, a stand-alone facility providing research resources to investigators including grants and financial administration, medical editing, and biostatistics.
Where We're Going
In 2018, the CTRG team expanded its unit level research concept to include a group at Naval Medical Center San Diego, CTRG West. The Navy Medicine West (NMW) expansion supports the overall CTRG mission through collaboration with unique regional resources like Naval Health Research Center (NHRC), local training commands, and the Mountain Warfare Center. The two groups continue to actively collaborate enhancing the ultimate mission of preserving life on the battlefield.

Authors: LCDR Sean Stuart, LCDR Grace Landers, ENS Joshua Sawyer
---
In Memoriam: Honoring those we lost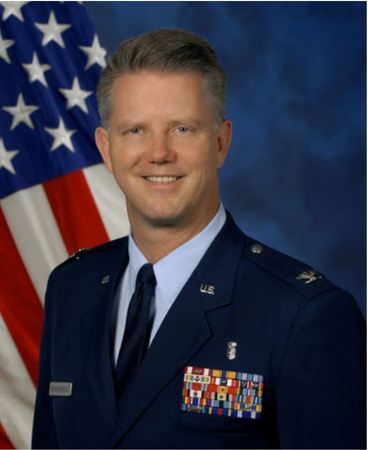 Col (ret) Chris Scharenbrock was born on January 16th, 1966 and started his military career as a distinguished USAFA grad. He went on to acquire his MD at USUHS before completing a transitional internship at Scott AFB and his EM residency at SAUSHEC. Col Scharenbrock was a one-of-a-kind Air Force officer and emergency physician who was a role model and inspiration to all who crossed his path. He was a leader multiple times over as an ED medical director, flight commander and combat warrior who deployed five times. Col Scharenbrock passed away unexpectedly on November 4th, 2019. He was a familiy man to the core and will be remembered fondly by all who knew him.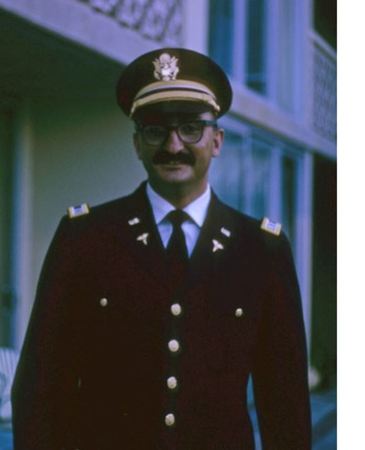 Born in Brooklyn, NY on August 3rd 1935, Dr. Peter Rosen was a pioneer in Emergency Medicine. He started out his career as a general surgeon and was drafted to the US Army as a Captain during the Vietnam conflict. He served for three years in Germany before being honorably discharged. After leaving the military, he spent time as a general surgeon in rural Wyoming before taking the job of Director of the Division of Emergency Medicine at the University of Chicago where he developed one of the first EM training programs in the country. He went on to be the director of various emergency medicine residencies. He passed away on November 11, 2019 at his home in Tucson, AZ.
---
2019 GSACEP Award winners
2019 GSACEP Medical Director Leadership Award
US Army MC Colonel Stewart C. McCarver, MD
Chief, Department of Emergency Medicine
Brooke Army Medical Center, Houston, Texas

2019 GSACEP Rising Star Award
US Army MC Captain Kyle Couperus, MD
Research Director, Emergency Medicine Clinical Faculty
Madigan Army Medical Center, Tacoma, Washington

2019 GSACEP Excellence in Emergency Medicine Award
US Air Force Colonel Vikhyat S. Bebarta, MD
Director, CU Anschutz Center for COMBAT Research
Director, TRIAD Research Colorado, Aurora, Colorado

ACEP 19 Resident Grant Award Recipients
Danielle Wickman, MD- LT MC USN
Yevginy Maksimenko, MD- CAPT MC USAF
---
Upcoming events
March 20-23, 2020 - Government Services Symposium
Orlando, FL
September 17-18, 2020 - Madigan Emergency Medicine Residency 40th reunion
Joint Base Lewis-McChord, WA
October 26-29, 2020 - ACEP Scientific Assembly
Dallas, TX